Call 800-916-7873
Text your questions to 269-601-4965
Canada shipping is flat rate at $25.00 USD.  All prices in USD
Electro Breeze Electronic Air Cleaners


Nearly HEPA performance at a fraction of the cost!

     Electro Breeze is the perfect retrofit to replace your furnace filter with a high efficiency whole house air purifiers.  Simply remove your 1 inch filter and replace it with the Electro Breeze electronic air cleaner and plug it in.  Your furnace is now a whole house air purifier cleaning 97% of airborne particles down to 0.3 microns (What is a micron?).  Removing the harmful particles that become asthma triggers, allergy symptoms and multiple chemical sensitivity symptoms.  Now you can rest in your own home in warm or cool temperatures.  In fact, the more you run your furnace fan, the more you are cleaning your indoor air.

| | |
| --- | --- |
| Electro Breeze Electronic Air Cleaner | The Electro Breeze Air Cleaner is no longer available for purchase online.  Please contact your local HVAC contractor and ask for the Electro Breeze air cleaner. |
ORDER REPLACEMENT FILTERS HERE!

Shipping is delayed about 3-4 weeks, but if you need a pad right away, just let us know in the special instructions during checkout and we'll get one to you as soon as possible at no additional charge.
Thank you for your patience as we continue to experience high demand for our products.
Easy installation of the Electro Breeze 1 inch panel

---
What is the Electro Breeze air cleaner?
---
ELECTRO BREEZE DUCT MOUNT UV KIT
The premier air purification package as a retro-fit!

     The Electro Breeze Duct Mount UV Kit was developed to meet the requirements of many of our allergy, asthma and multiple chemical sensitivity (mcs) customers.  Many of them were in need of an upgrade to help rid them of mold, bacteria and viruses.  The Electro Breeze electronic air filter is capable of trapping and killing these particles, but their kill rate is extremely high when coupled with the effects of the Ultra-Violet germicidal kit.  Click here to see the dramatic effects of the DMUV kit.

---
Installation of Electro Breeze Duct Mount UV kit

---
What is the Electro Breeze DMUV kit?
---
Compare installation pricing of Electro Breeze DMUV kit with One Hour MicroPower Guard® plus AirScrubber® UV unit
Electro Breeze DMUV kit installation pricing
Cost for the Electro Breeze DMUV kit = $645.00 + $7.50 shipping
Cost for installation = DIY or less than $100 for any handyman to do it
Cost for professional duct cleaning = $500 for most homes
Total cost = $1,252.50 (plus you start out with 5 pads for the air cleaner)
Real cost of service from One Hour franchise = $2,372.50
One Hour® franchise installation pricing
This pricing can be found at the URL listed on the image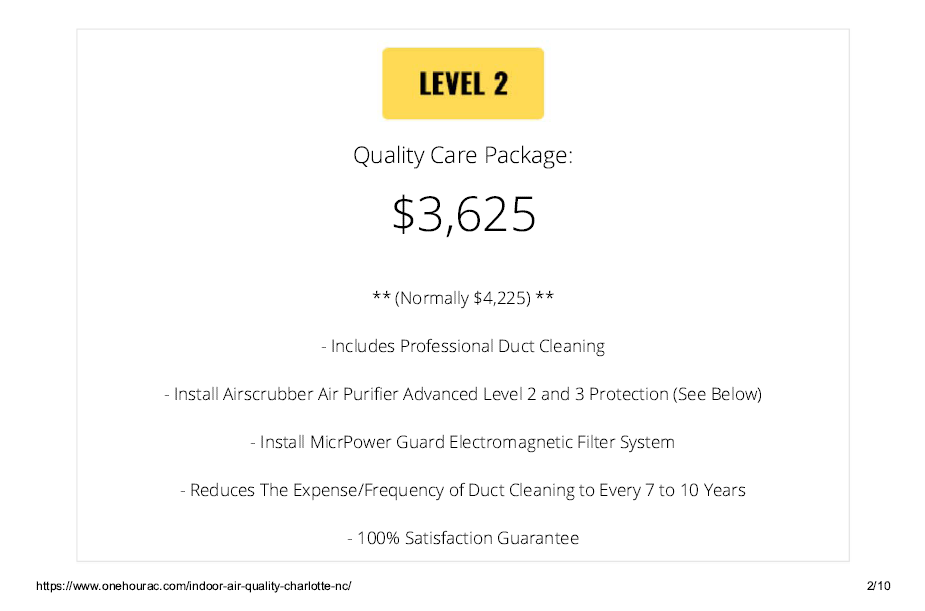 $12.50 FLAT RATE SHIPPING for the entire order!
800-916-7873