Call 800-916-7873
Text your questions to 269-601-4965
Canada shipping is flat rate at $25.00 USD.  All prices in USD
Compare Polarized Media Air Cleaners

Shipping is delayed about 3-4 weeks, but if you need a pad right away, just let us know in the special instructions during checkout and we'll get one to you as soon as possible at no additional charge.
Thank you for your patience as we continue to experience high demand for our products.
Close comparison of Electrostatic Air Filters

     Each of the brands Electro Breeze, Dynamic, Envirosept, TFI operate on the same principle of electrifying the media in order to produce a high efficiency filter.  However, only the Electro Breeze and Dynamic, including Nature's Home MicroPower Guard®, One Hour Xenon Power Guard® and other brands manufactured by Dynamic, are capable of capturing 97% of the particles down to 0.3 microns.  The others do not create enough of a magnetic field or sustainable field to achieve such a high efficiency rating.

     To compare this variety of quality air purifiers would require you to purchase one of each to see how superior the design of the Electro Breeze is compared to the others.  We have included pictures below to show you what we have observed to be some of the strengths and weaknesses of each design.

MicroPower Guard® Air Cleaner made by InnerEco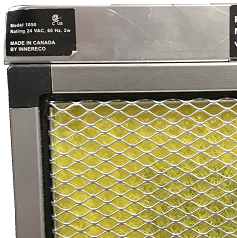 Diamond screen has sharp edges like expanded metal screen.  Be careful!
Diamond screen is made of aluminum that will oxidize when electricity is applied.  May produce aluminum dust.

Difficult to get replaced when it breaks or tears.
---
As of the printing of this web page, no test report can be found on the efficiency (not pressure drop) of the new MicroPower Guard® Diamond.  Ask for it!
Dynamic and MicroPower Guard® Air Cleaner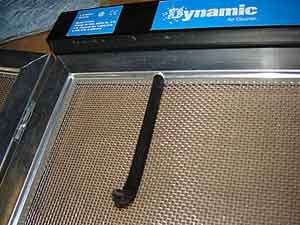 Dynamic has no coating on their electrode and also has a history of premature powerhead failures*.  Keep your warranty handy!

---
Dynamic attempts to miter their corners, but ends up with sharp edges and mismatch making it difficult to install.

Also uses Stainless Steel mesh screen.

*Contact Dynamic AQS directly for more information on their history of power head failures.

Electro Breeze Air Cleaner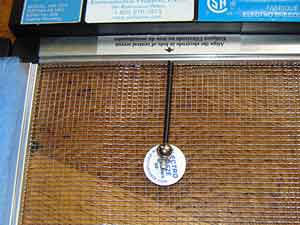 Electro Breeze utilizes a titanium coated electrode to combat corrosion and insure an excellent contact for optimal performance.

Stainless Steel screen mesh does not oxidize nor does it shed particles.

Stainless Steel screen mesh lasts longer and is more tear resistant.  The screen can be replaced at your local hardware like a window screen.  Make sure they use Stainless Steel mesh.
---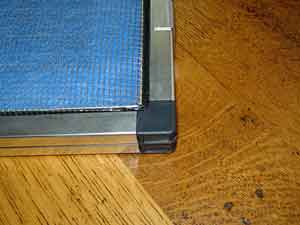 Electro Breeze has the sturdiest design with reinforced corners that glide smoothly into and out of your filter slot.  No sharp edges to snag your hand or clothing.

---
Compare Media air cleaners to the Electro Breeze electronic air cleaner
---
$12.50 FLAT RATE SHIPPING for the entire order!
800-916-7873